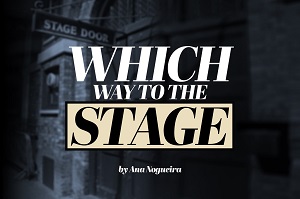 WHICH WAY TO THE STAGE?
A playful yet profound comedy about friendship, ambition, and what happens when dreams fall just out of reach.
Broadway superfans Jeff and Judy eagerly await their idol Idina Menzel after her performance in If/Then at the stage door every night. But when a sexy stranger enters the scene and upends their decades-long friendship, the musical theater aficionados have to go off book to rewrite their own finale.
110 minutes & no intermission
01/18/2024 07:00 PM (Thursday)
Venue:
Island City Stage
Seats Remaining:
63
SELECT TICKET
SELECT SEAT
01/19/2024 08:00 PM (Friday)
Venue:
Island City Stage
Seats Remaining:
67
SELECT TICKET
SELECT SEAT
01/20/2024 08:00 PM (Saturday)
Venue:
Island City Stage
Seats Remaining:
53
SELECT TICKET
SELECT SEAT
01/21/2024 05:00 PM (Sunday)
Venue:
Island City Stage
Seats Remaining:
58
SELECT TICKET
SELECT SEAT
01/25/2024 07:00 PM (Thursday)
Venue:
Island City Stage
Seats Remaining:
59
SELECT TICKET
SELECT SEAT
01/26/2024 08:00 PM (Friday)
Venue:
Island City Stage
Seats Remaining:
64
SELECT TICKET
SELECT SEAT
01/27/2024 08:00 PM (Saturday)
Venue:
Island City Stage
Seats Remaining:
54
SELECT TICKET
SELECT SEAT
01/28/2024 05:00 PM (Sunday)
Venue:
Island City Stage
Seats Remaining:
49
SELECT TICKET
SELECT SEAT
02/01/2024 07:00 PM (Thursday)
Venue:
Island City Stage
Seats Remaining:
63
SELECT TICKET
SELECT SEAT
02/02/2024 08:00 PM (Friday)
Venue:
Island City Stage
Seats Remaining:
65
SELECT TICKET
SELECT SEAT
02/03/2024 02:00 PM (Saturday)
Venue:
Island City Stage
Seats Remaining:
61
SELECT TICKET
SELECT SEAT
02/03/2024 08:00 PM (Saturday)
Venue:
Island City Stage
Seats Remaining:
63
SELECT TICKET
SELECT SEAT
02/04/2024 05:00 PM (Sunday)
Venue:
Island City Stage
Seats Remaining:
65
SELECT TICKET
SELECT SEAT
02/08/2024 07:00 PM (Thursday)
Venue:
Island City Stage
Seats Remaining:
67
SELECT TICKET
SELECT SEAT
02/09/2024 08:00 PM (Friday)
Venue:
Island City Stage
Seats Remaining:
67
SELECT TICKET
SELECT SEAT
02/10/2024 02:00 PM (Saturday)
Venue:
Island City Stage
Seats Remaining:
67
SELECT TICKET
SELECT SEAT
02/10/2024 08:00 PM (Saturday)
Venue:
Island City Stage
Seats Remaining:
67
SELECT TICKET
SELECT SEAT
02/11/2024 05:00 PM (Sunday)
Venue:
Island City Stage
Seats Remaining:
67
SELECT TICKET
SELECT SEAT